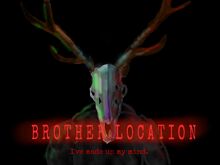 WARNING: There are deadly amounts of cringe featured in this profile. Please proceed with caution.
Subscribe to Voiceover Pete
you are new, please note that you shouldn't rely on this information for info about me. This is very old, and I will rewrite it when I have time.
please leave now
bye
i said go
why must you do this to me
TO BE EDITED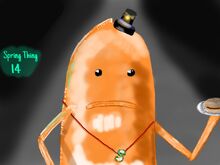 I'll take fan-art requests.
Wow. You seem to have found my profile page. Come inside... and get comfy, because it costs $80 to leave. NOW PAY UP!
Okay, you can pay later. Anyways, I am SpringThing14! I am for the most part always active, and am proud to be a part of this wiki! I have been here since September 22nd, 2015, and am still active now!
Also, every Thursday, I'll make a news blog called SpringThing Weekly! I insist you check it out so you can stay updated on my content.
Some of my Sayings
Rest in Reses Pieces(R.I.R.P)
Soup(Like sup)
Contagulations.
More, probably.
Wiki Friends
Pretty much all users are at least a little bit of a wiki friend, as long as they aren't insanely rude.
The Non-Zomboss-A really goo friend of mine here. Great supporter of all my games, and makes great content. He even recommended a few characters for Five Nights at Frisky's.
Tina.g.sherwin-Another really good friend here. She always supports my games, and is fun to roleplay with. She also makes great pages.
NyanKittyKat-Evein though she doesn't edit that much, she's a great user.
Seth Reuben-Awesome user. He isn't that active, but still draws great and makes good pages. He also has a cool YouTube channel!
Downtown Freezy-Awesome admin. He talks to me in chat a lot, and is helping me out with something that I can't reveal ;)
TonicHedgeFox-Pretty cool user. He's pretty funny at times, and makes awesome content. He also designed most of the home page, including the wiki banner with the Nightmares on it.
Blueflame(Experiment):Awesome user, who makes some of the best content I've ever seen. He draws really good, and even made a story and game based off a joke I made(except it was more serious).
FazbearFreak-Cool user, who makes awesome games, such as 5 Nights at Steve's. My doctor told me to tell you that you should check it out, as it's good for your health.
Shadowboy192-Awesome user, and always supports and comments on almost all my content. He makes great pages, too!
Aidenthehedgehogisawesome-He's a cool user! He enjoys my games, and I enjoy his. I also helped him come up with an idea for a sequel to one of his games, Family Diner.
I may have missed a few, and if so, I'll add them soon.
Games
If something is red, it means that game/story is coming soon.
Five Nights at Frisky's:Frisky's Fry
Five Nights at Frisky's 2:The Prequel(To be changed)
Five Nights at Frisky's 3:Frisky's Fright(To be changed)
Five Nights at Frisky's 4:Nightmares Emerge
Five Nights at Frisky's 5:The New Frisky's of 2016
Five Nights at Frisky's 6:The Finale
Frisky and Friends Meet SnowStruck(FanStory)
Frisky's Survival Story(FanStory)
Five Nights at Tim The Lizard's Tacos
Five Nights at Freddy's: Brother Location
Jessi's Life Series-Season 1-Main Page
Jessi's Life Series-Season 1-Subs, Subs, and More Subs
(Creepypasta)The Room Out Back
(Creepypasta)The Older Brother
My Best Artwork-Gallery
Community content is available under
CC-BY-SA
unless otherwise noted.